Apologies in advance for the novel - although I assume with today's trend towards facebook's instant gratification, the only people still coming to forums are doing so for more in depth connection and discussion, so here's my story - I've tried to break it up with plenty of images, if that's your preference :) Waaaay back in May 2006 (almost ten years ago, that's scary!)
I purchased an October 2000 NB8B - the 42nd one built, if the VIN's are sequential.
It was stock when I purchased it, and I fitted KYB AGX shocks with Vogtland springs from Ebay
USA, a Pioneer headunit, 8" Pioneer Speakers in the Doors, clear repeaters and reflectors, and Bridgestone Adrenaline tyres and had a total ball.
I owned that car until 2010 - selling it shortly before the birth of my first child (daughter Scarlett) as we needed to clear up some debts before my wife stopped working.
Concurrently I'd owned a Turbocharged EA Fairmont, which blew up and was then sold - keeping the green MX-5, and then later a decently hotted up (to the extent of being faster than the car which received the turbo parts from my EA) non-turbo EB Fairmont.
When my daughter was born (so shortly after I sold the green car) we also sold my wife's car (another EB) and bought a tidy low km's EF Fairmont to get her and the kids around.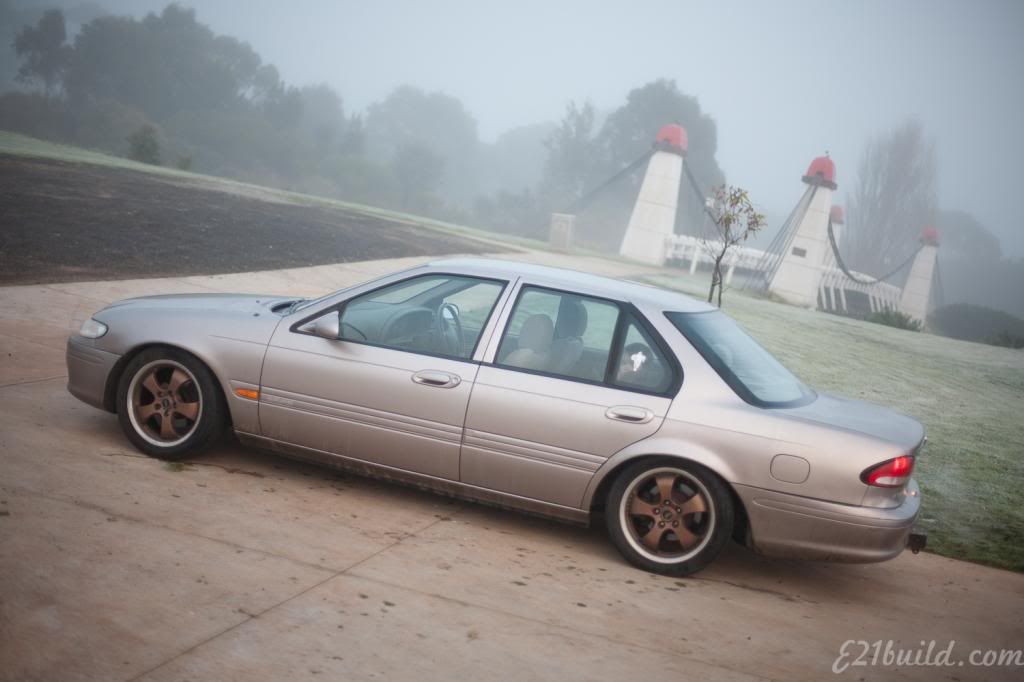 For a while, we ran the two Fairmonts but I wanted something not quite as mad as the EB (23l/100km of 98RON gets a bit much after a while) and something reasonably safe for carting around our increasing family -
our son Hunter was born in 2013 - and I purchased a BMW E39 540i while looking for an E36 convertible (I wanted that top down experience again!) once I discovered how much nicer of a car they were for the same money.
Not as nimble as an MX-5 - that's for sure - but better than many would expect in the corners thanks to alloy suspension and just through being engineered by BMW.
I was given a BMW E21 that my father had bought for my brother to learn to drive manual - the EB shell was discarded and the motor and transmission made to fit the E21 (see
http://www.e21build.com
for more on this) making for a rather formidable car (an E21 weighs around the same as an NB, and is rear drive with IRS) - this is to eventually become a hillclimb hack.
My wife wanted a project (since I wasn't allowed to have all the fun with the E21), so we picked up an R33 GTS-T Skyline, did that up (respray, FMIC, exhaust, raised boost etc), and then we bought a 2008 Gen4 Manual Subaru Liberty. The R33 was then hardly driven, so not long after the birth of our third child it was sold.
The EF Fairmont was given to my father in-law to drive our kids around as his existing car (A Toyota Soarer V8) died due to what I'll call "lack of mechanical sympathy".
My eldest daughter Scarlett holding youngest daughter Hayley
Rather than buying a third seat for the E39, we stuck to making three child seats fit in the Liberty, and gave one of the two seats from the E39 to my Father-In-Law; and at this point I realised that with our eldest daughter now almost five years old and due to start school next year, we often had to split the kids into two cars - the E39 being taken by my wife 3-4 days a week to drop my daughter to Kindergarten, and the Liberty being taken by me to drop the other children to my Father-In-Law who looks after them during the day (My wife and I both work full time).
Around this time, the E39 started to cost me money - as older BMWs are liable to do - a gasket here or there, niggling intermittent misfires that were hard to track down - due for a battery soon, tyres sooner. I also spotted Mazda's clever ad for the new MX-5 "now in the garage, something new" which got me thinking (right in the feels - who said advertising doesn't work?). I sold the E39 and the hunt was on for another MX-5.
When I bought my first NB8B, I'd initially started looking at NA6's... then NA8's once I decided to stretch the budget and read a bit about short nose crank issues. Then I spotted an NB8A in a car yard and stretched my budget further. I wanted anything but navy blue (they were everywhere at the time) - looked at a black and was smitten but the car hadn't been looked after so it wasn't to be. I actually discovered my first NB8B by accident looking on carsales - it was listed by a dealer - without pictures, as an NB8A but with an NB30P2 VIN, and I bought it simply because it was the price of other NB8A's - decent condition - and had a whole heap of bits I'd have wanted on an NB8A anyway.
This time was no exception - the NB8B I'd owned had lived up to everything I'd expected and then some. It'd been reliable - fun - economical, practical enough for daily duties (I only live 6kms from work, thank goodness for regional living!) - a tidy 80,000km NB8C in silver came in to work (I sell VW/Honda/Hyundai and used cars for a living) and I tried to buy it - despite not being sold on Silver, and the car not having AC - but the owner wasn't ready to sell. I've never been a fan of how NC's look - nor understood why they need four cupholders for two people - and disliked the floaty handling of the model with the folding metal hard-top. They also didn't match my budget (if my budget had been around NC money I'd have bought an SE or an S2000 instead anyway).
There seem to be plenty of MX-5's for sale - but the prices vary a lot - NA's don't often get listed south of $6,000 and in my opinion for that money you'd have a decent chance of picking up a sub 160,000km NB8A. The cars for sale tend to be in far away places too - I'm in Warrnambool VIC so I'm about 3 hours from Melbourne - but many of the NB8B's and NB8C's I found - especially the lower km ones and not silver or that ice blue that you either love or hate (it's more of the latter for me, sorry!) - were in far flung places like Tasmania, Sydney, Perth, or Cairns. NB8C's didn't have enough extras to consider worth persuing with any dedication - especially given the questions over power output due to later emissions compliance!
Two black ones appealed to me - both in the 110-125,000km bracket. One's owner was very vague about the vehicle and took a long time responding to my queries - the other was in Adelaide. My wife is originally from Adelaide so I negotiated a price on the car pending inspection and we headed over to stay with her relatives and to look at the car.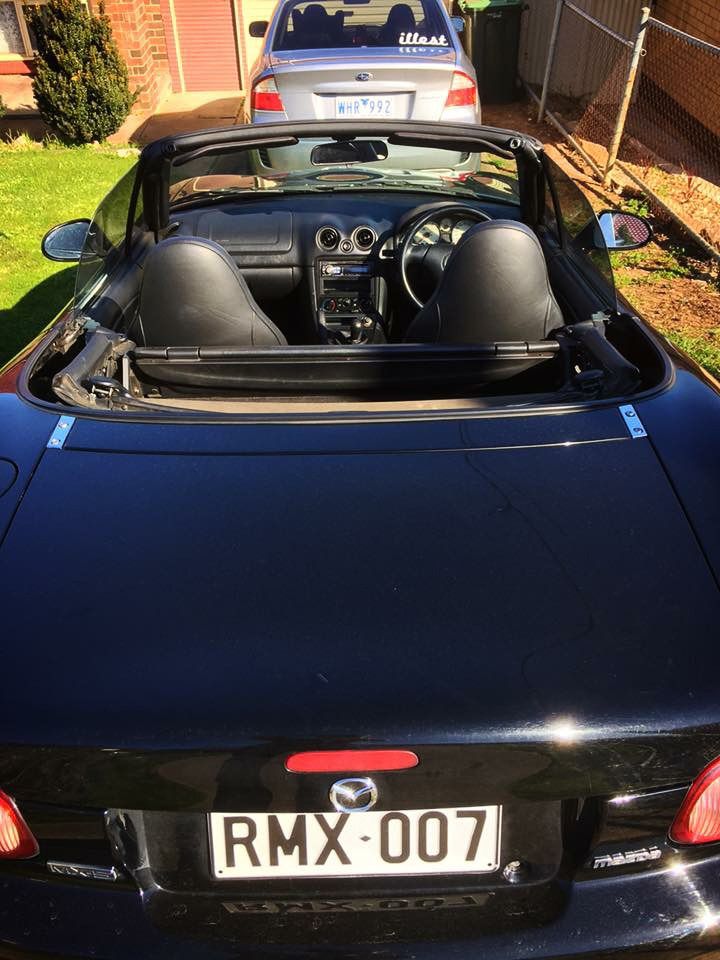 The car in Adelaide is the car that I bought.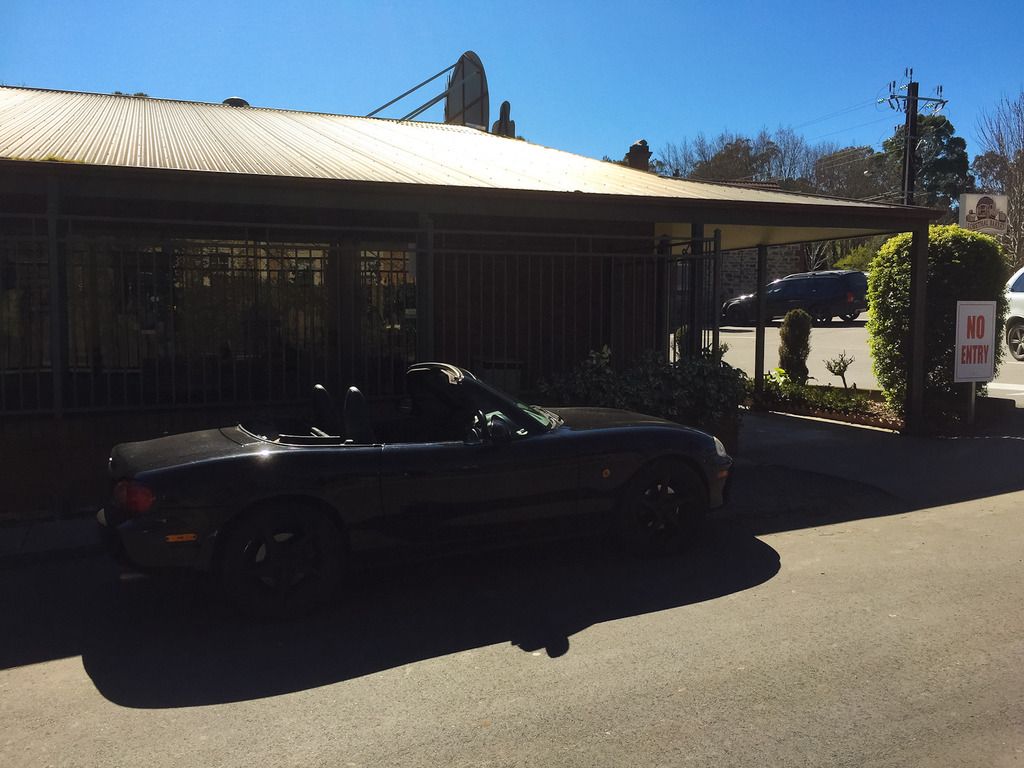 It's not perfect. I don't think any will be as perfect as my original NB8B was by now - after all - that car was only 6 years old when I bought it and the newest NB8B now would be over twice that.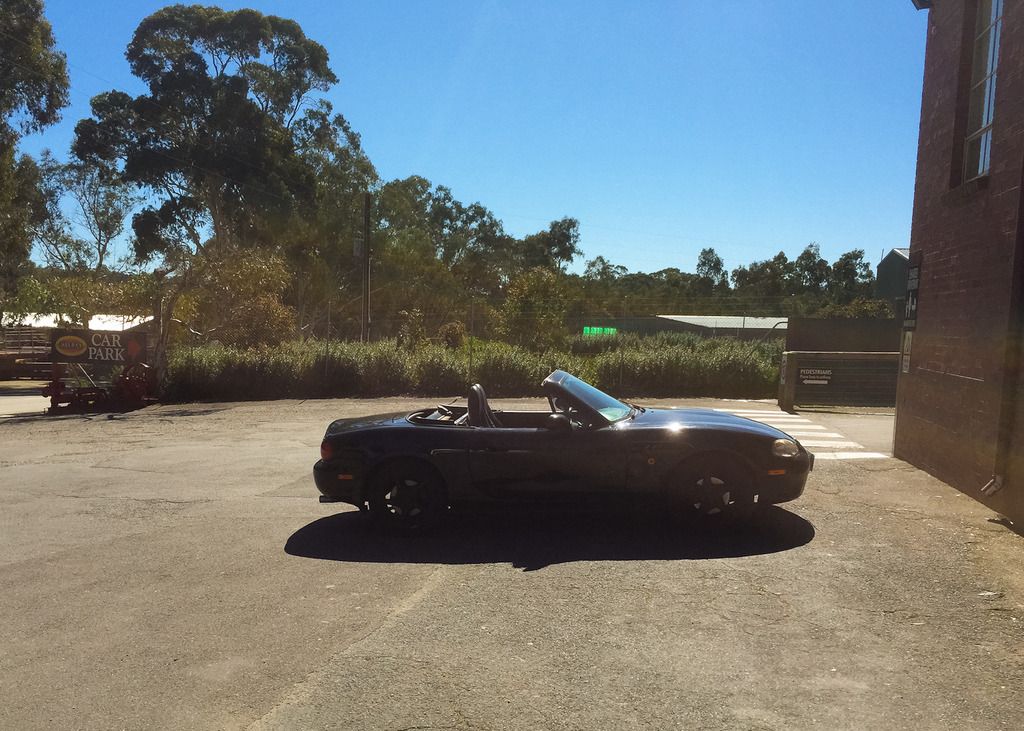 It'll need some work. That's ok - I'm fairly handy with tools, detailing, etc. What it does have is a full set of tyres (contintenals), fresh oil, no apparent long or short term engine bay leaks, no brake leaks, no shock absorber leaks, it drives well, tracks straight, shifts how I remember the 6 speed shifting etc.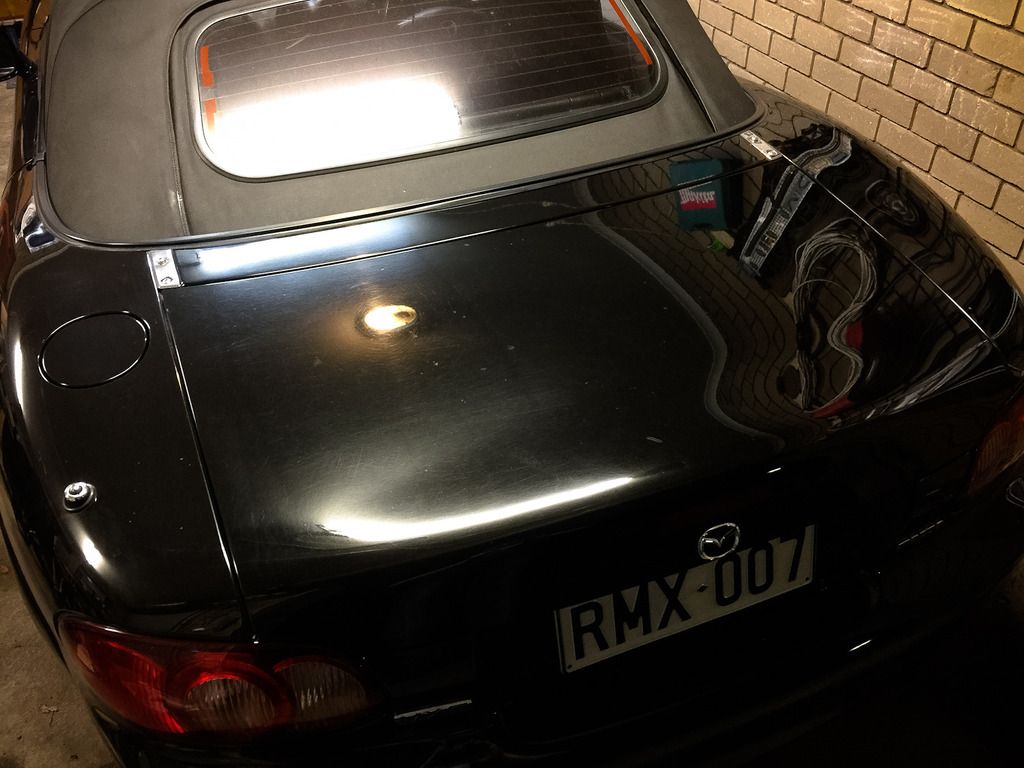 I probably paid too much - but I had sold my other car and wanted another - I think I bought the best available in the timeframe for a decent price, and that's all that matters to me.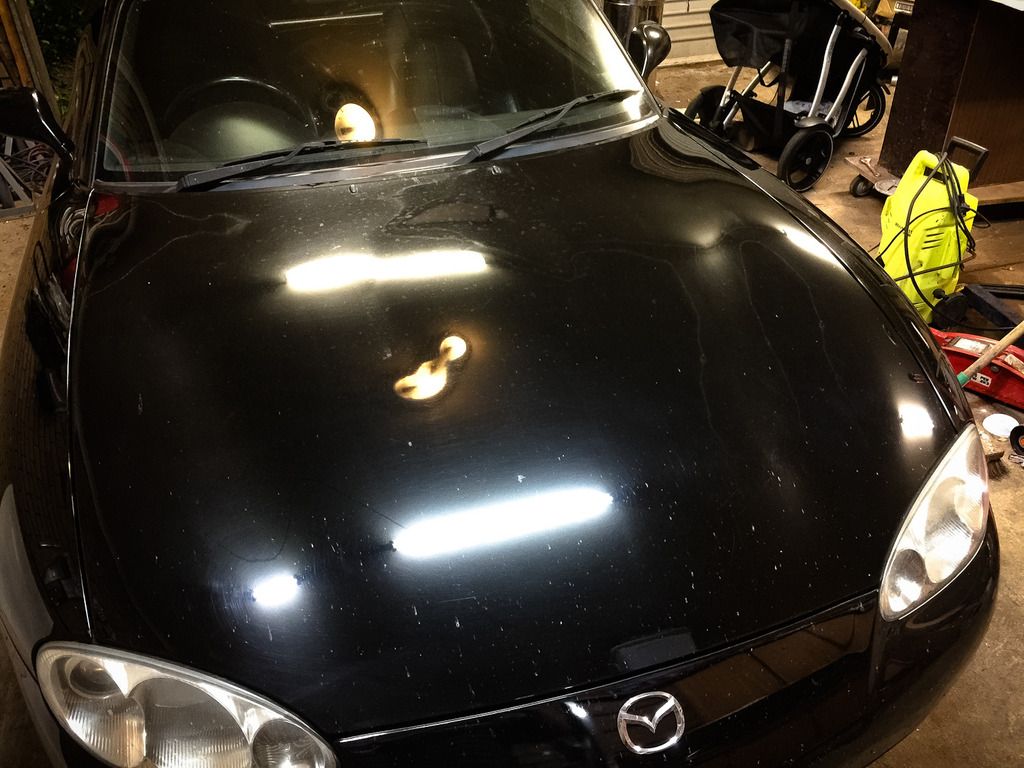 This is the bonnet after I drove it back from Adelaide. 650kms. All the way with the top down in the sun. I arrived home, ears ringing and sunburnt; happy.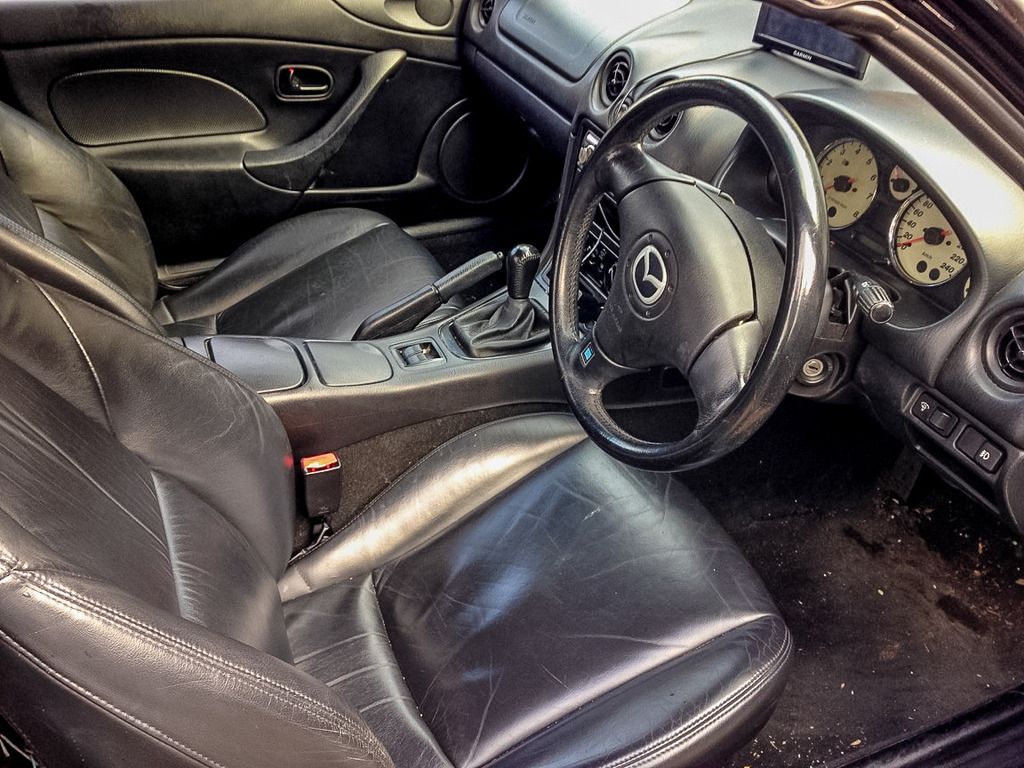 This pic is from the seller - as I haven't detailed the interior yet I've not taken any photos - but the car has a very good condition steering wheel (no wear evident - even the 80,000km car I had through work had wear on the wheel!) and seats look to have come from an SE at some point.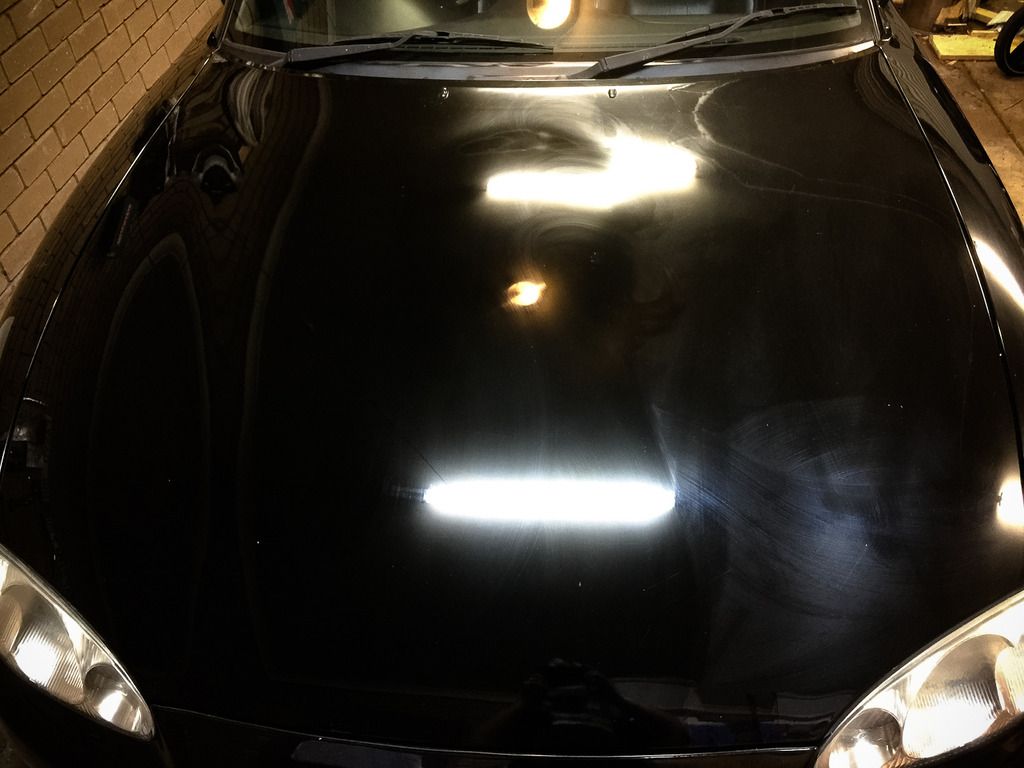 I started by cleaning the whole car down with Autoglym fast glass (basically iso propynol) to remove bug guts, any existing polishes/waxes etc. I didn't find my clay bar until far too late which would have sped up the whole initial process.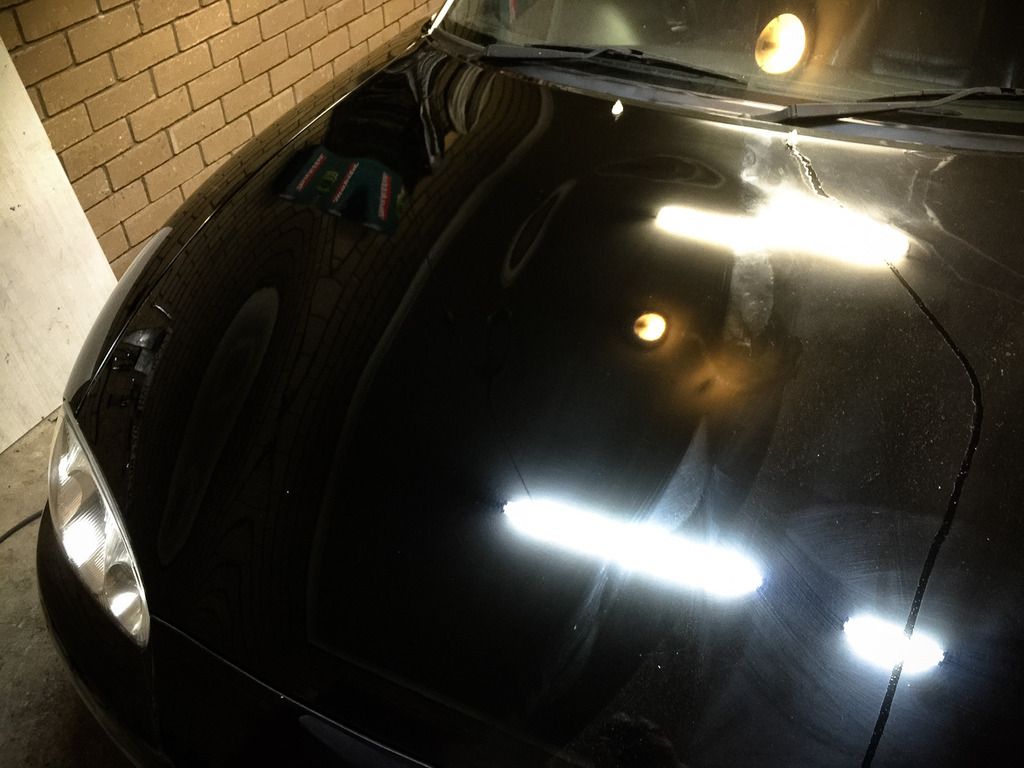 Here I've polished half the bonnet with my RO and Meguiars Swirl Remover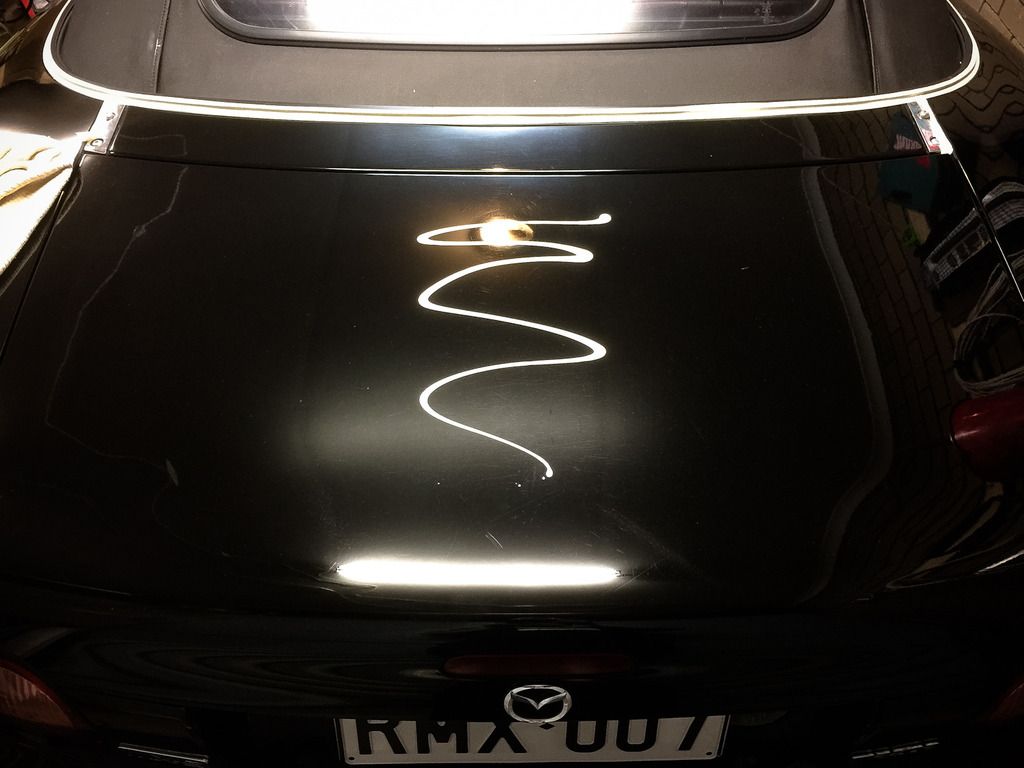 Masking tape to remove the need to be so careful around plastic trims etc.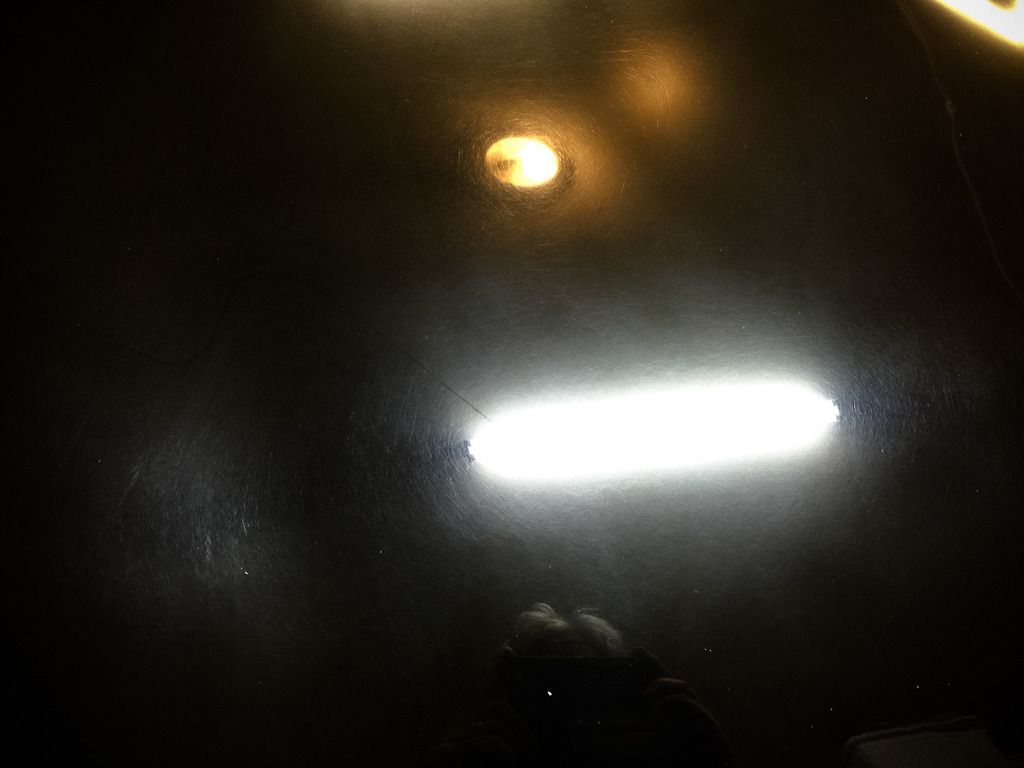 A better idea of some of the imperfections I had to deal with. All of these photos are from my iPhone 6 Plus Back Camera - it's hard to get good shots of a black car with a fully automatic camera and show any detail.
Door showing possibly years of neglect.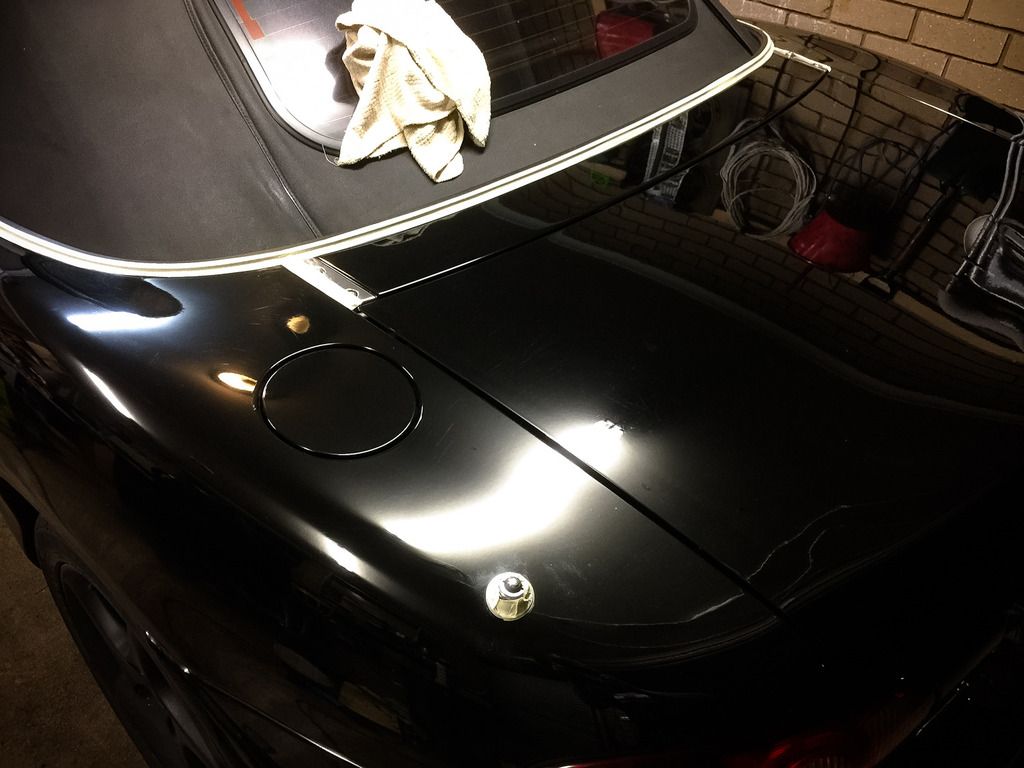 Boot lid - getting there with swirl remover only - no fillers used at this point.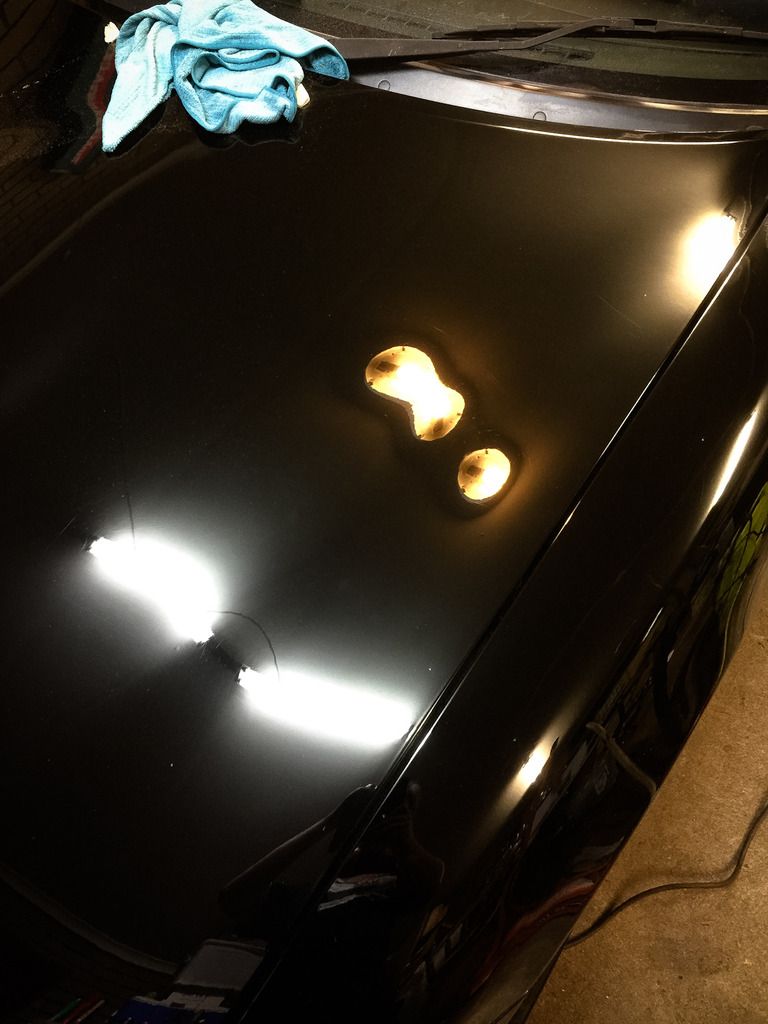 The front guard actually has a series of dents that I'll have to get looked at. If I can get away with paintless dent repair reasonably cheap - that will be the go (I am in the trade, so it's cheaper than many would think) otherwise I'll have to get it painted.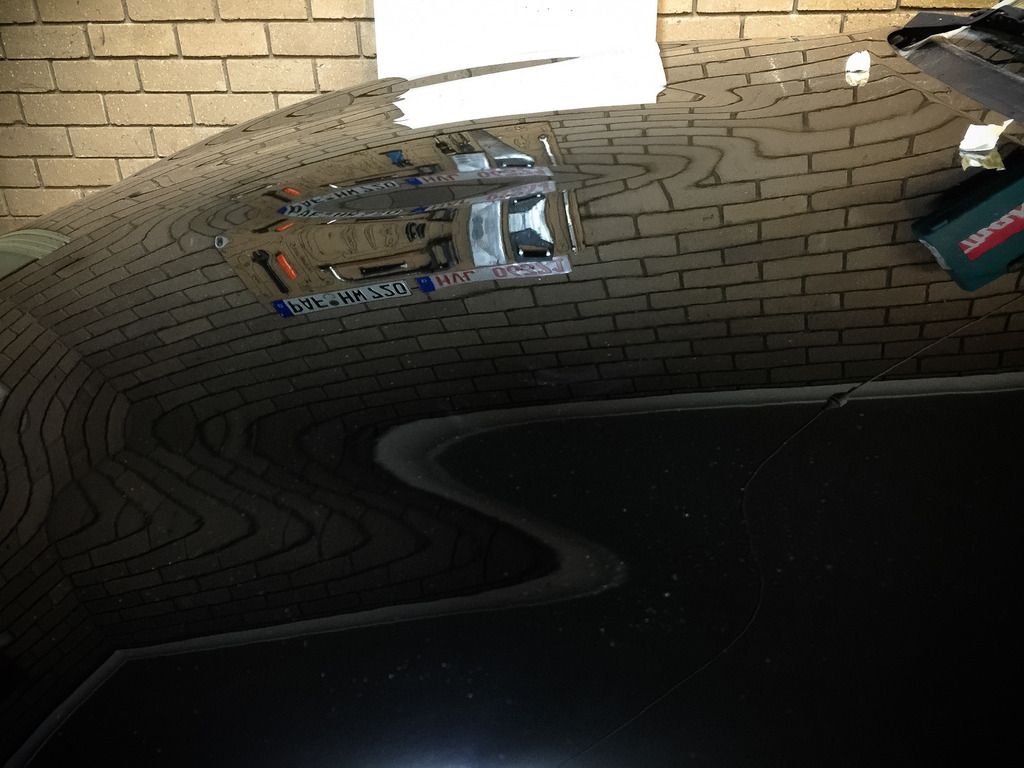 The boot also has a small dent from the inside out. It's annoying, but I can deal with it (For now) - no doubt at some point I'll get it fixed. At this point I called it a night. It's midnight and for some reason my daughter is too excited to sleep so has stayed up "helping" me.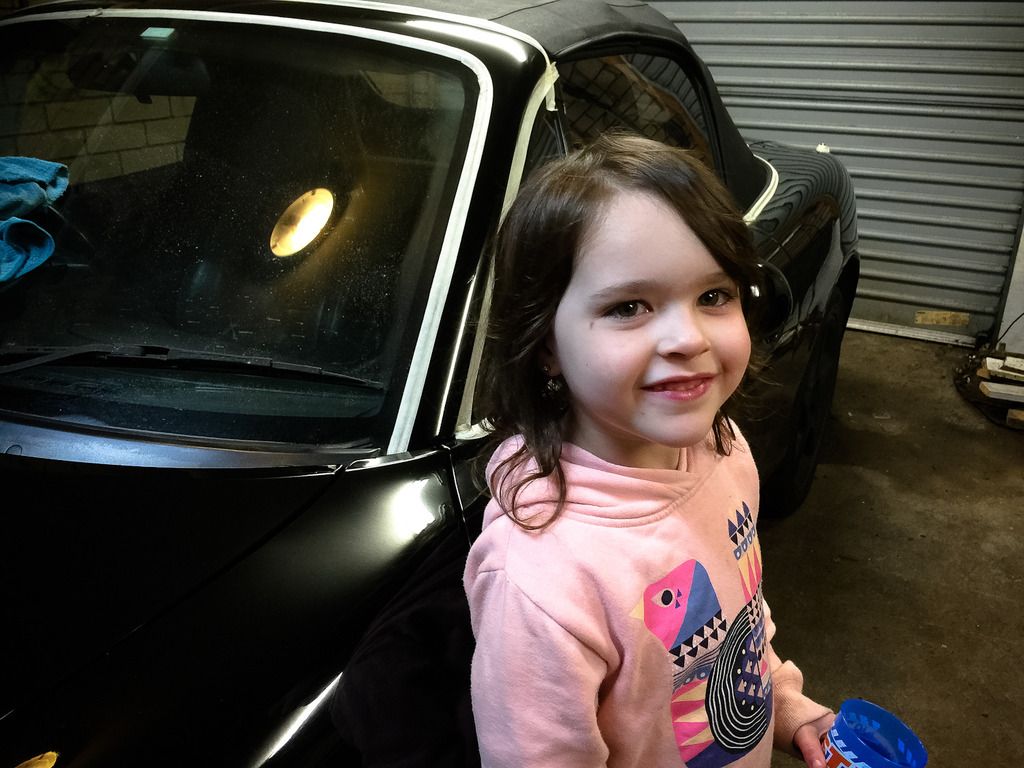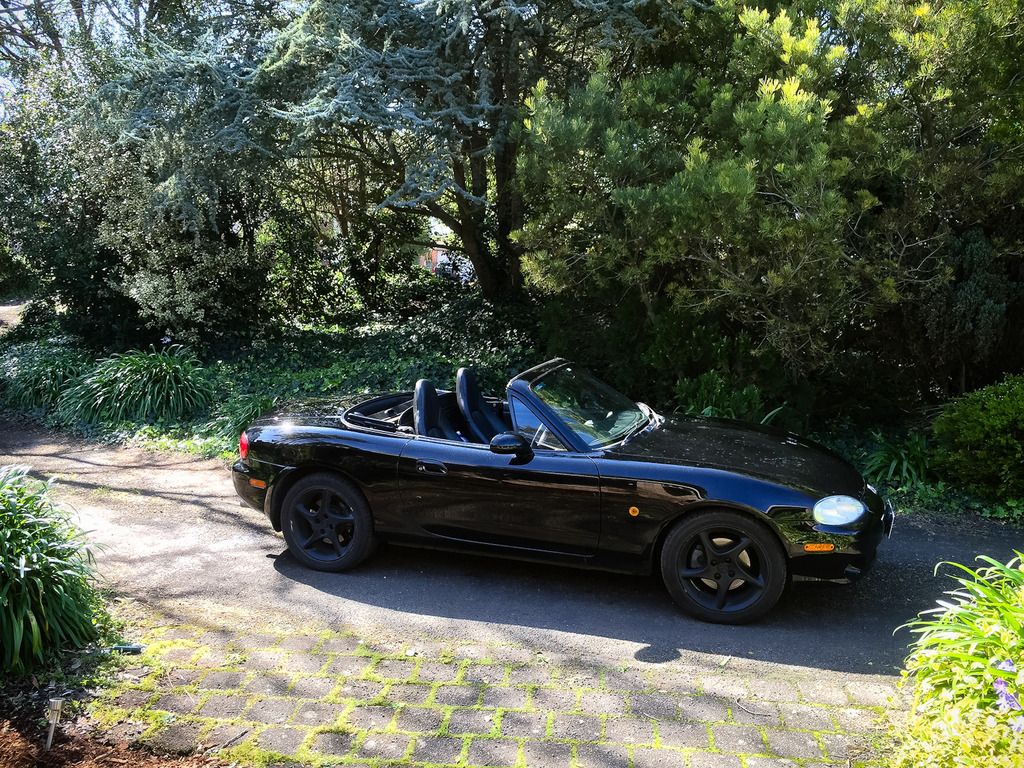 The next day was the first day of spring. I had yet another chance to drive roof down. The black wheels annoy me - is it plasti dip? I can't peel it off but it chips. Maybe it's paint. I google removing plasti dip and resolve to buy WD40 and paint thinners (WD40 to check if it's plasti dip and remove if so, and thinners to try and remove if not)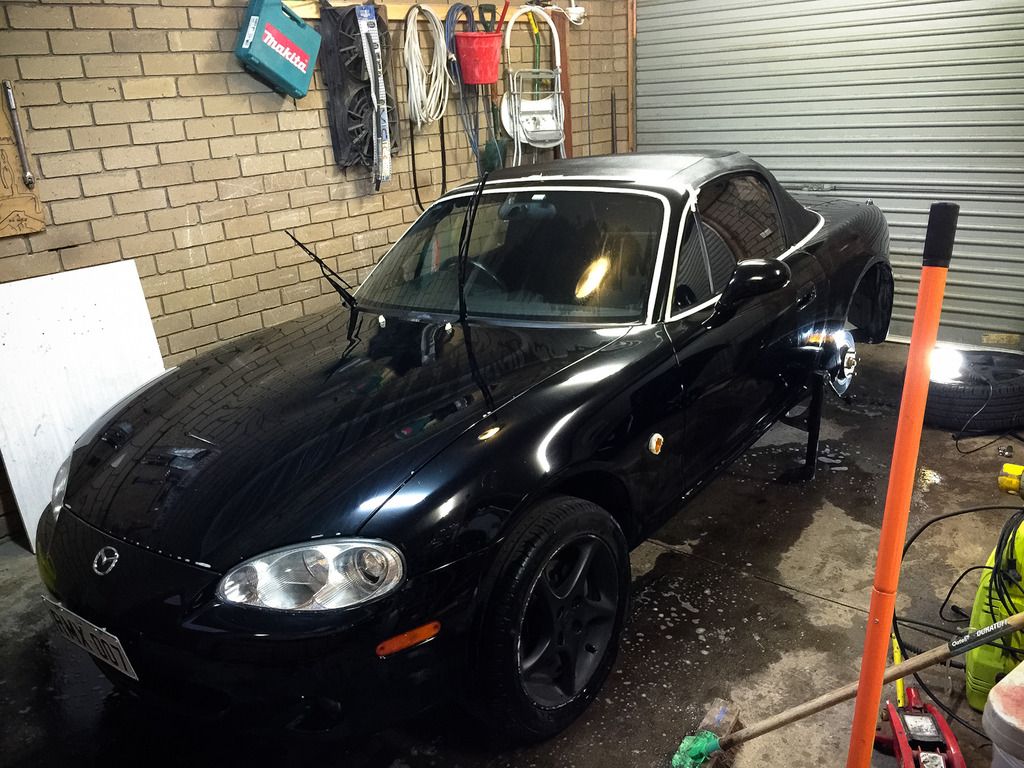 I wash the car down and while doing so notice the front of the wheel arch (rear left) has been caught by something - perhaps someone ran over an animal or a stick and it caught the inside lip of the wheel arch. A soft face hammer made short work of it.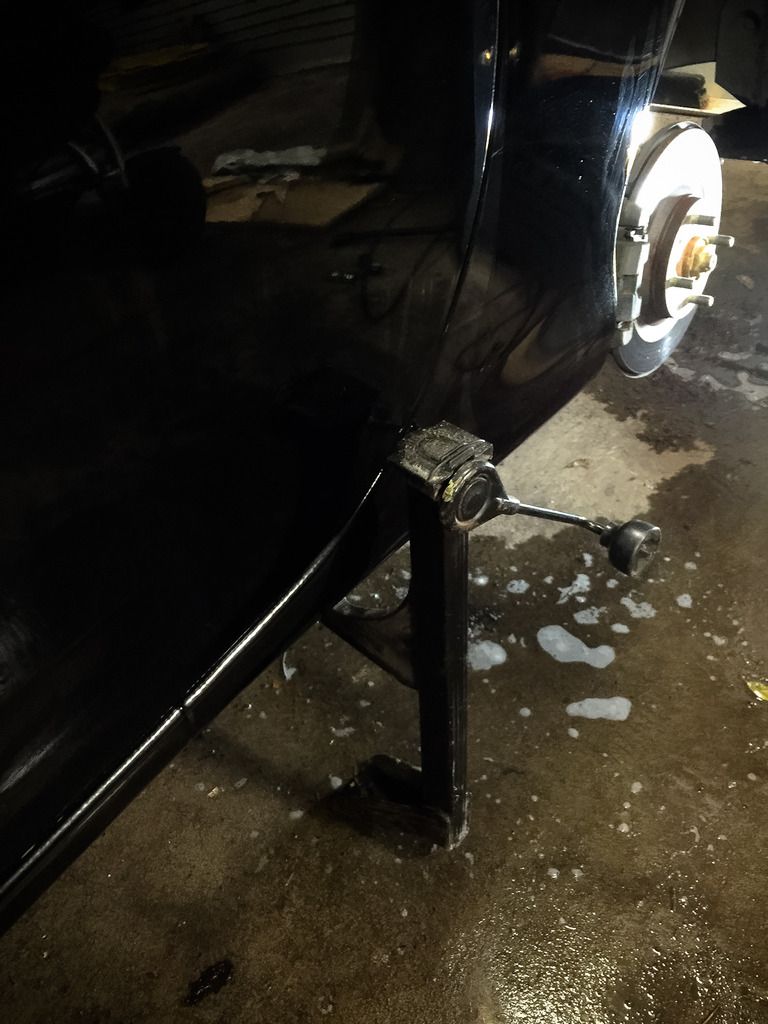 I used the stock bilstein jack from the E21 to lift the car from the factory scissor jack lift point, as I am acutely aware that any way I might try and lift this car using my normal jack is likely to bend something.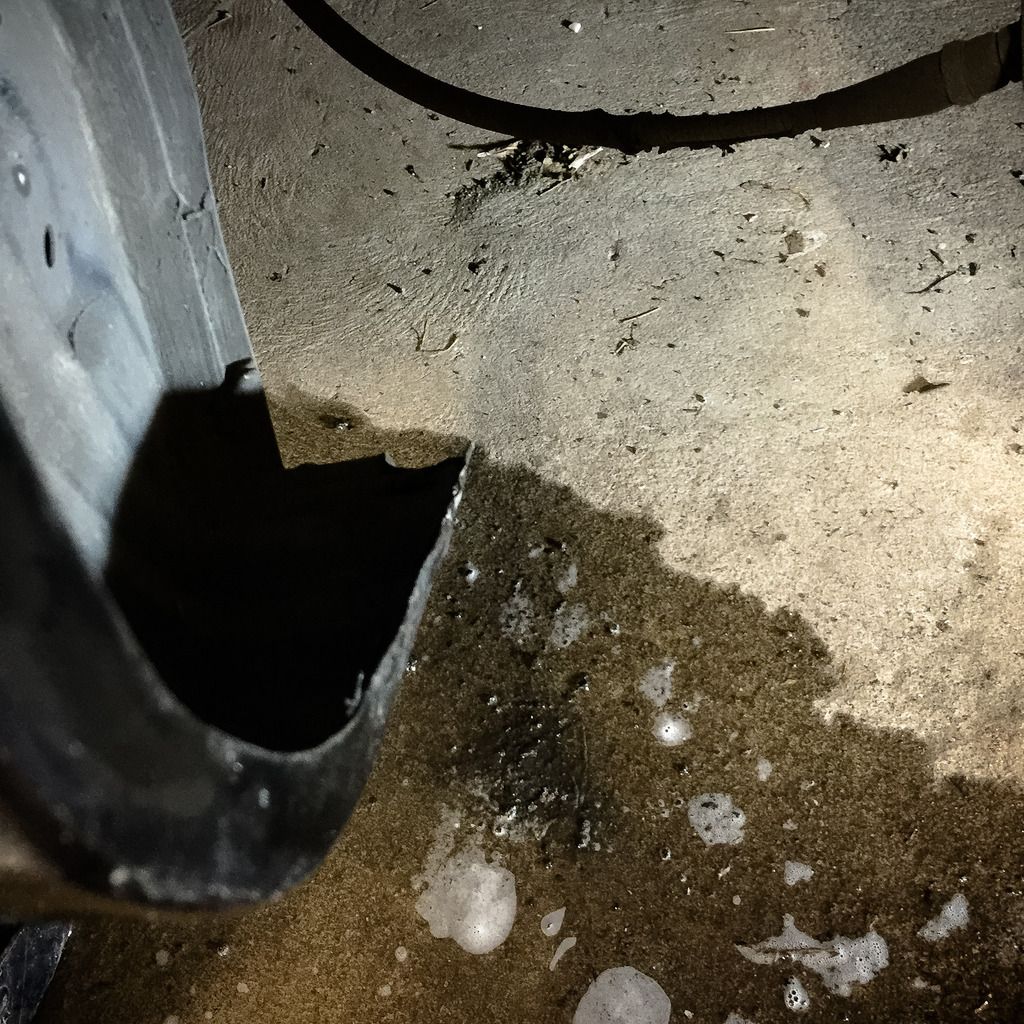 Much closer to how it should be.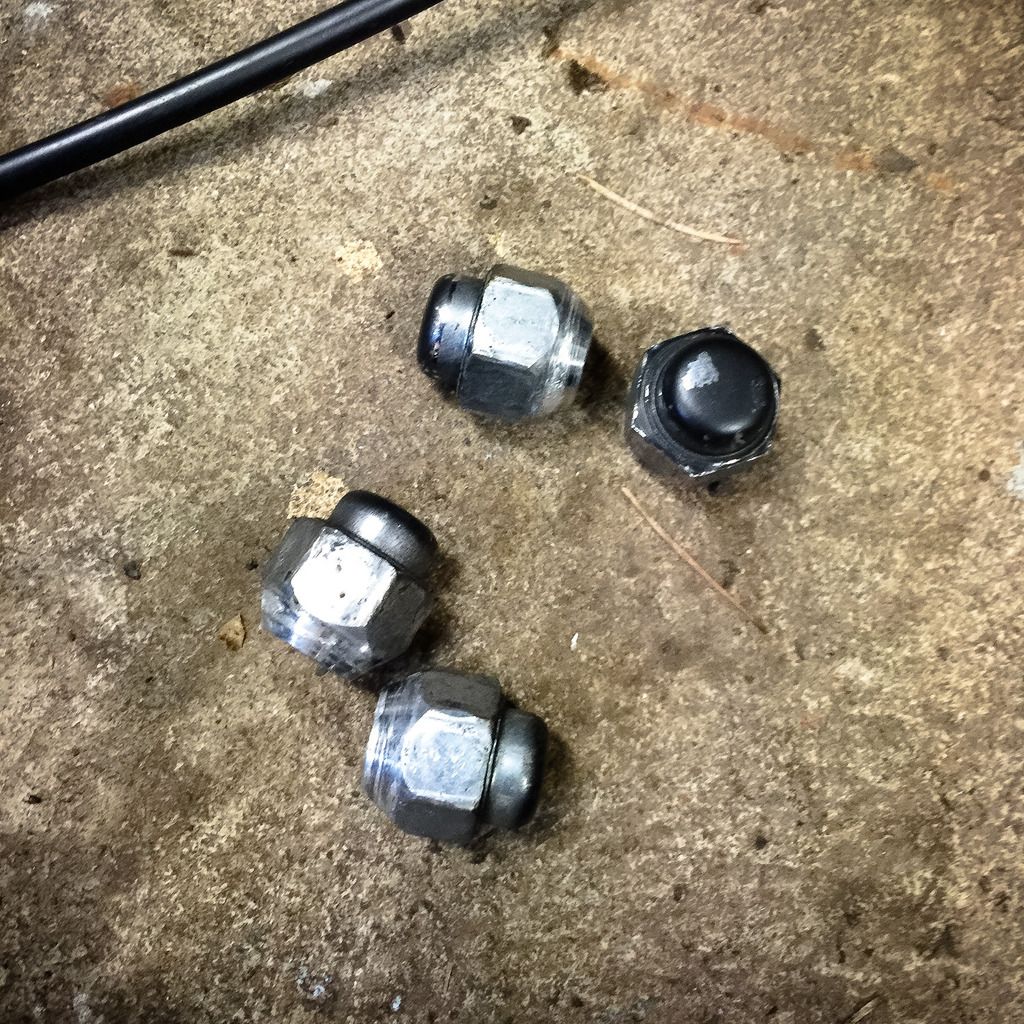 The wheels must have been painted on the car. Amateur hour.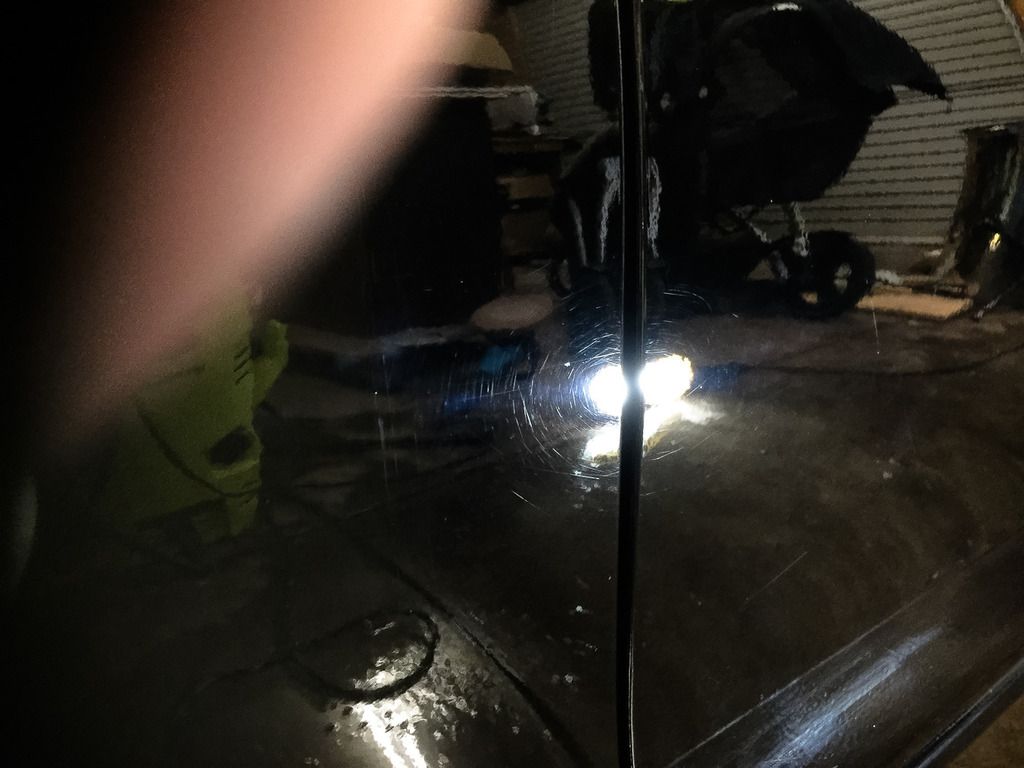 I start removing swirls from and compounding the doors.
Looking much better. The mirrors have come miles from where they started too - initially I thought they'd need a re-paint!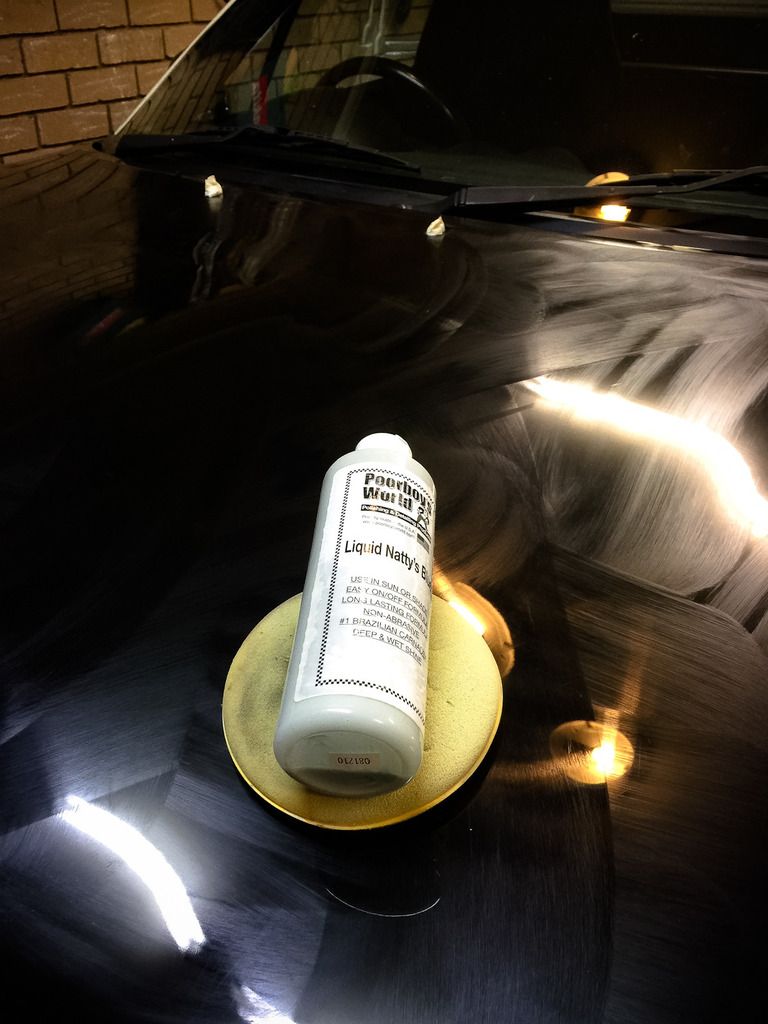 On to sealing and waxing (fillers!!) - I used a glass plexin based long term sealant, and poorboys world natty's blue wax.
The results speak for themselves.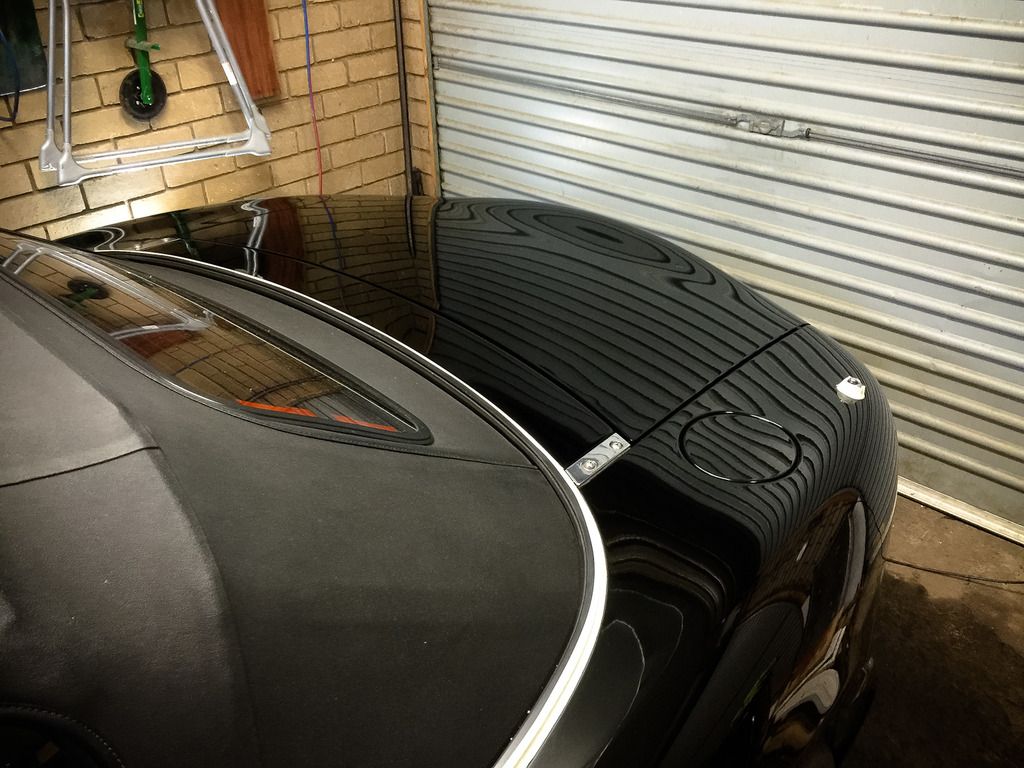 Swirls be gone!
Those wheels again! Yuck!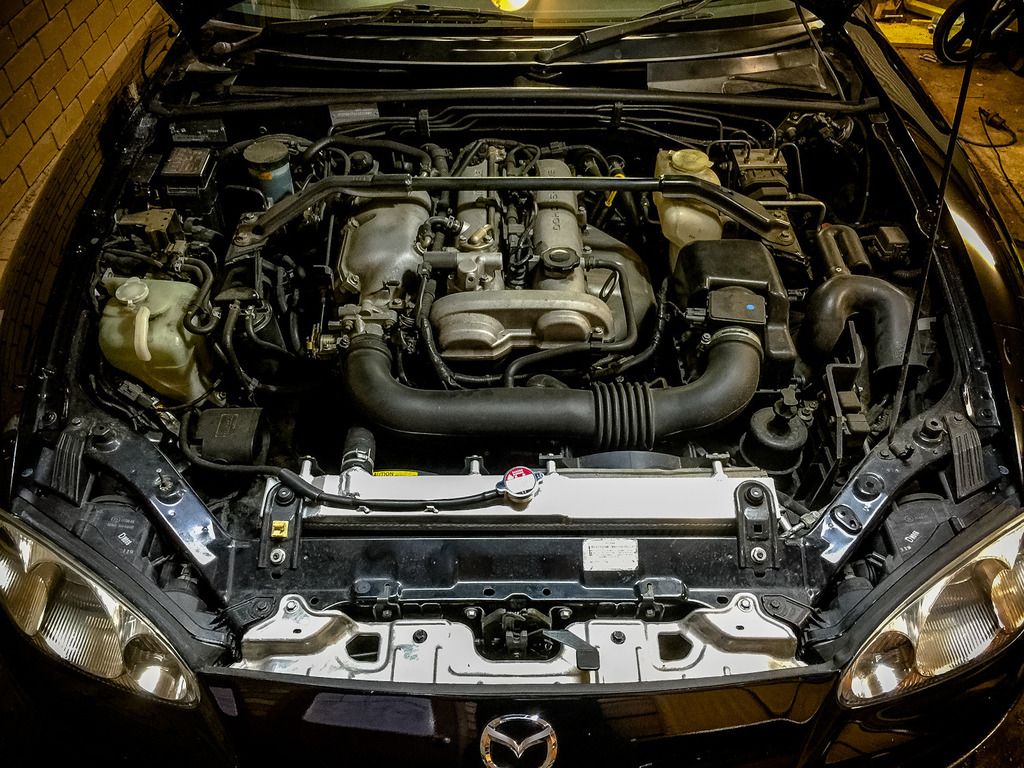 Engine bay got a quick wipe over - this is the before shot as I haven't finished it yet. I discovered a bit of fin rot on the front of the radiator. My parts guy at work has sourced me a Genuine radiator, hoses and coolant - so I'll replace this china ebay alloy with a proper Mazda part (which should be good for 10 years anyway! - if the original in this was, then this eBay one hasn't even made two years!)
Turns out that it was paint on the wheels - thinners has done the job to remove it! Took approx 1 hour a wheel. There are still a few spots I'll fix up properly when the wheels are off the car next... or when I get bored.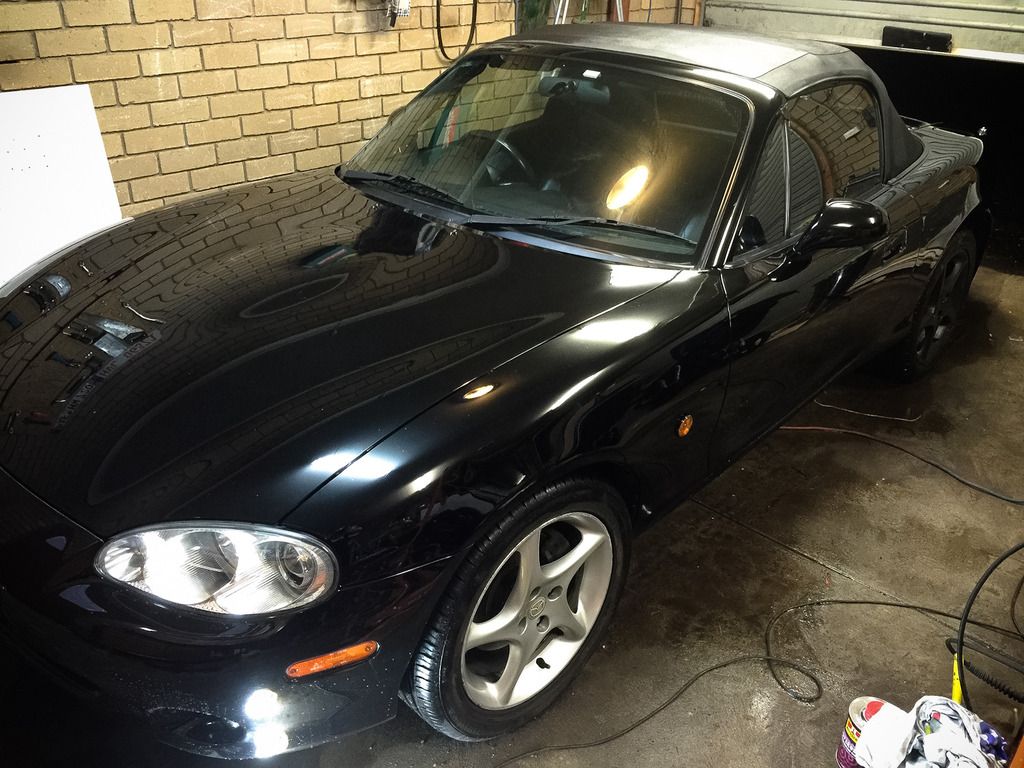 I still can't fathom why someone would do it... just gross. The center caps have lost their paint as they are likely sprayed acrylic while the wheels would be a factory 2k or powdercoat finish. I'll have to get a can of touchup paint made so I can spray them.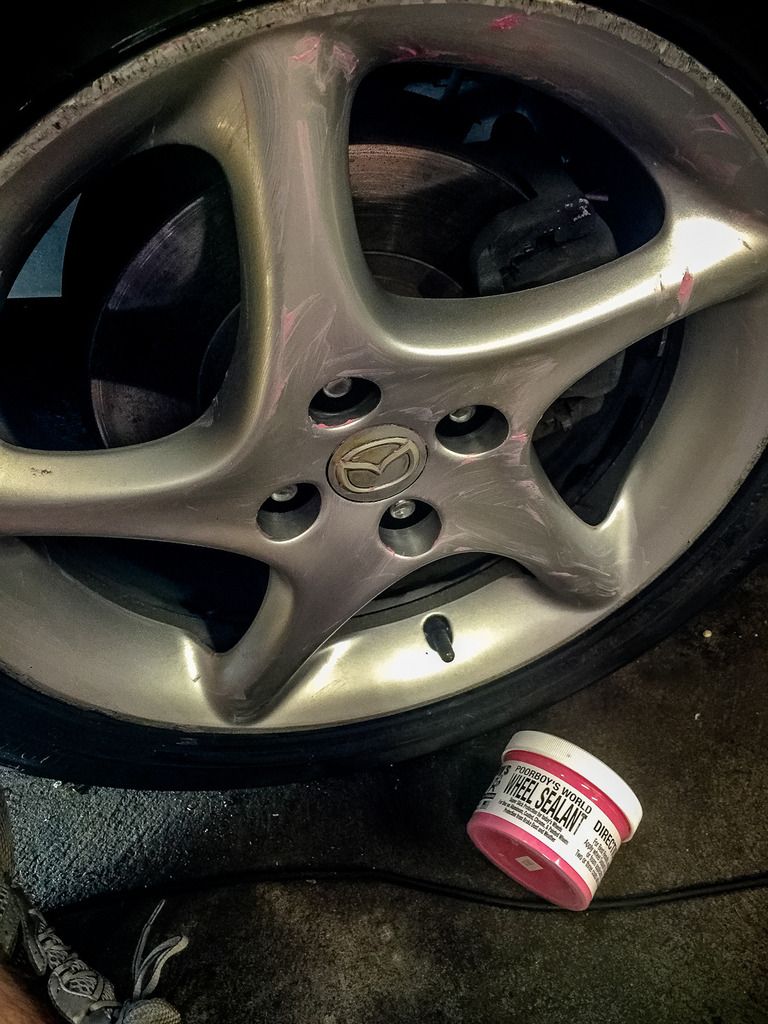 Poorboys wheel sealant to help remove brake dust in the future and to add some long lost shine back to the wheels.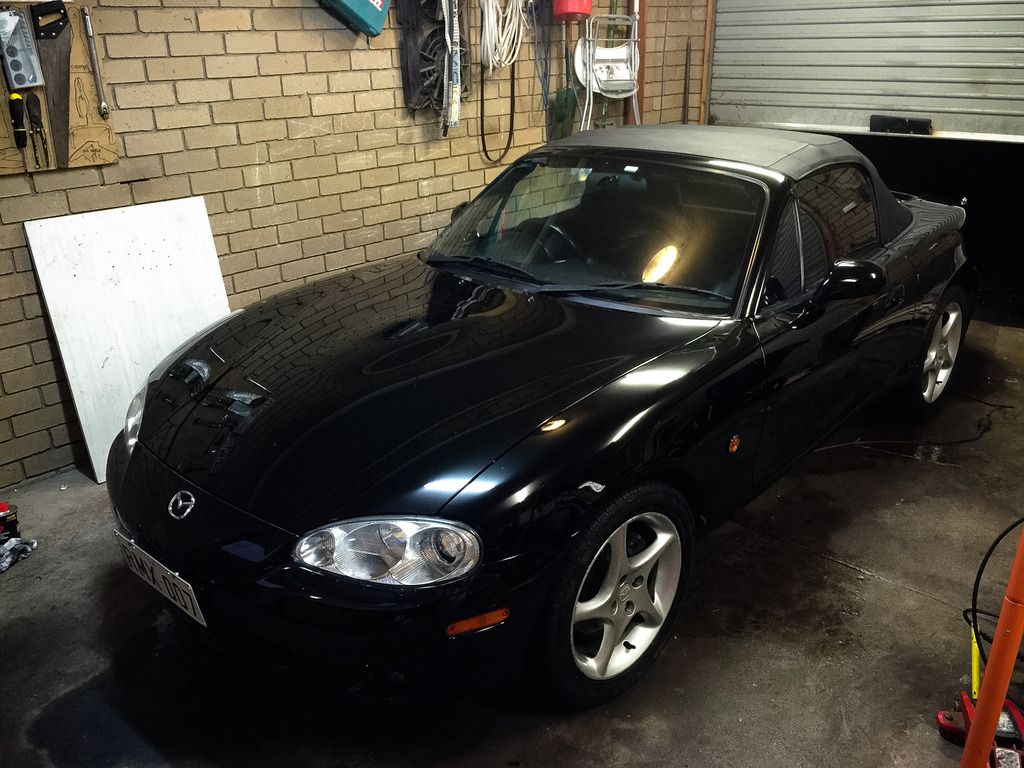 Looking much more like it should! Took the car in to work for a roadworthy - I replaced a headlight globe before going in and it had a parker unplugged, needed wiper inserts, and the fog lights weren't working.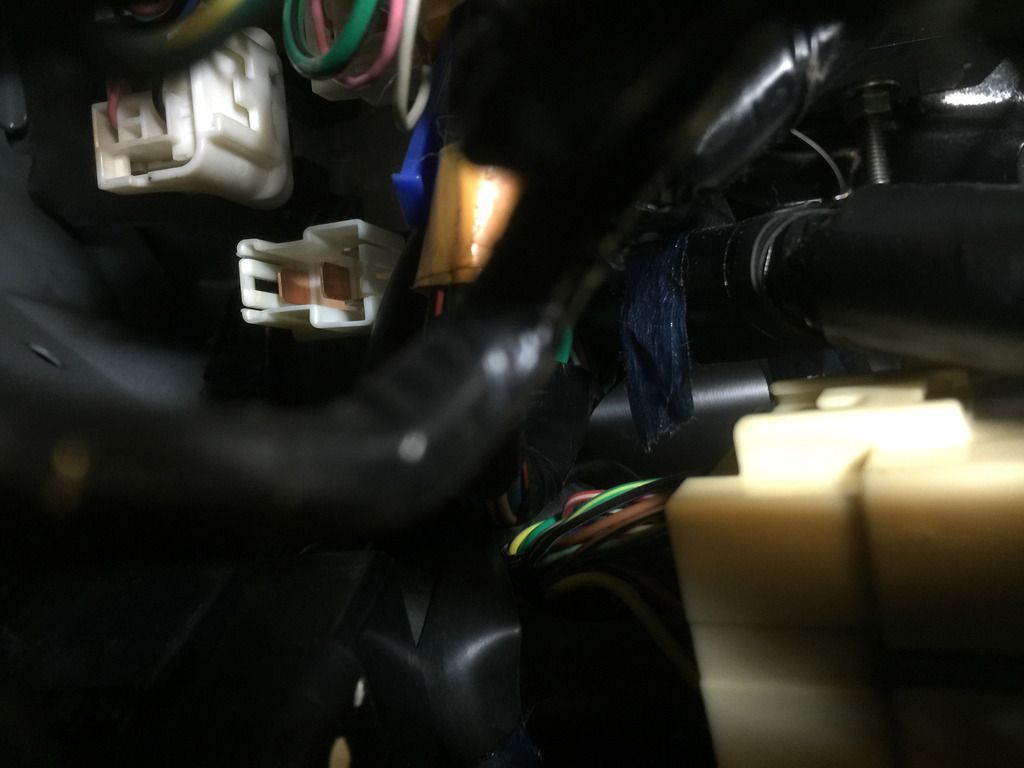 That's odd - there should be something plugged in here!
This is the foglight relay from under the dash. It's connector has gone missing. There's no power to the looms at the lights. There's power going into (and out of) the foglight switch. Technically I could remove the lights and pass a roadworthy but I'd rather them work - I find them very handy for looking for house numbers at night or in my previous '5 spotting potholes on rough country roads.
It's apparent I'm too big to comfortably fit in the footwell of an MX-5. From what I can see some cowboy auto electrician or backyarder has fitted an alarm to the car and used the relay switched power wire from the fog light circuit to power something alarm based, and completely removed the connector. I have a mate who is an auto electrician who is going to help me find the original wires and reconnect them to the relay to get the fogs working as the factory intended.
I spotted a thread on here about someone else who bought a mildly low KM's MX-5 and found their air filter full of dirt so thought I should inspect mine - despite a service being done only a few weeks ago - and lo and behold - not dirt but another surprise awaited me in the airbox.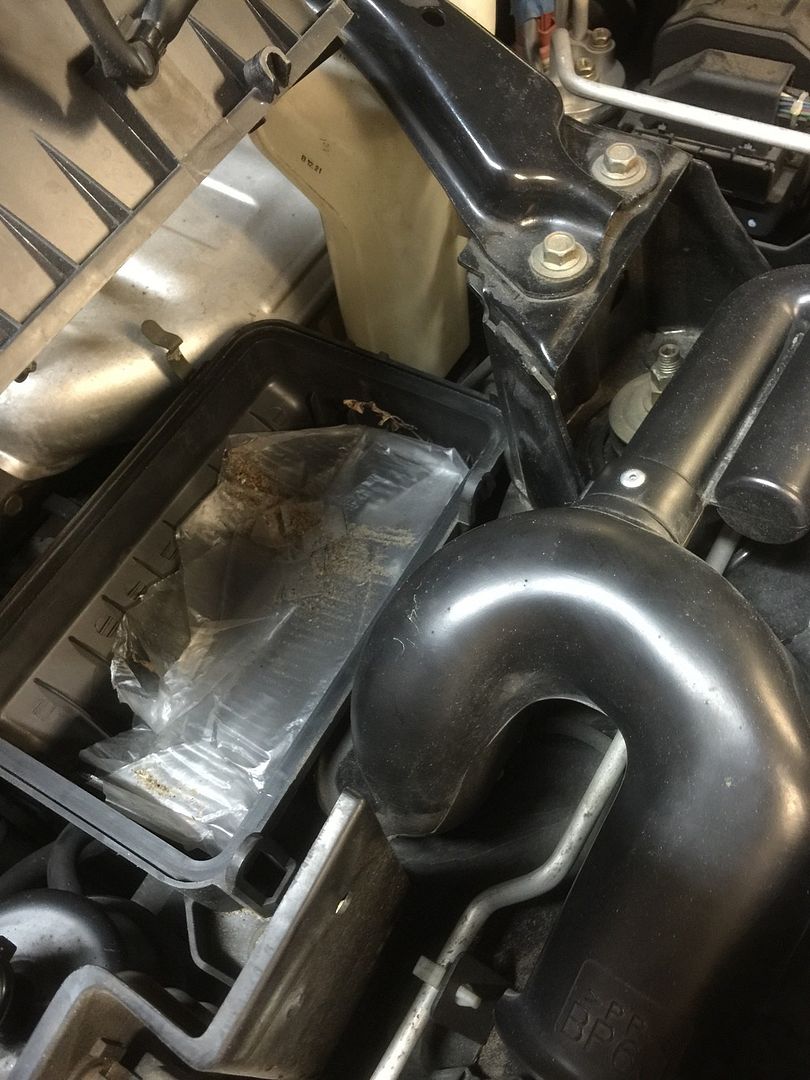 It's amazing how well it drove back from Adelaide considering - used 7.8l/100km of 98 octane while sitting at around 110kph for most of the trip. I'm amazed there wasn't a more obvious power defecit.
I've also fixed the aim on one of the headlights (the one that had the globe out) and tightened the alternator belt as it was squeeling at night with both headlights and A/C on (due to load from thermofans, lights and internal fan)
One of my cup holders had it's spring dislocate, and I've dropped it inside the console while trying to relocate it - i'll fix that when I remove the center console to wash it in warm soapy water - it has been used as a bit of a bin for coffee cup scum and various other objects from the looks of things!